Laptop Power jack repair may be required when your laptop fails to start, experiences battery charging problems or loses power intermittently. If an laptop suffers from power problems it may be due to a faulty battery or a damaged power jack. Assuming the battery has been checked and is not defective, the most common reason for loss of power is a broken power jack or faulty power jack connection to the motherboard. Fortunately this can be easily resolved by Ganton IT's Laptop power jack repair service.
Ganton IT - for fast touchpad repair
There are many reasons why your laptop power jack experiences intermittent faults or stops working altogether. The most common reasons for DC power jack repair are:
Physical damage – This can often happen when the lead is forcibly pulled out or someone trips over the adapter. Rough treatment will also inflict damage on the adapter, the power jack or even to the part of the motherboard where the power jack is attached. If power jack repair is not carried out as soon as problems are observed, the motherboard surrounding the power jack may crack or even break off
Motherboard damage – In some cases loss of power may be due to motherboard faults such as conductive copper tracks (paths) coming off the board or insulating material burnt, resulting in the motherboard being short-circuited.
Ganton IT for fast and effective Laptop power jack repair
Ganton IT has been running a successful laptop power jack repair service in London for 12 years. We aim to provide a fast and competitively priced laptop power jack repair but do not allow cost and time considerations to stop us offering the highest level of customer service. Ganton IT technicians are highly skilled and we are confidently able to offer a three month warranty for all Laptop power jack repairs.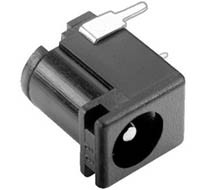 Our laptop repair technicians are highly trained and able to resolve any power supply problems, whether due to a broken power jack or damage to the motherboard. They have the experience to diagnose power supply faults quickly and suggest the most economical power jack repair. If a loose power jack is the problem, they can solder it back on to the motherboard. However, they may have to replace the whole power jack if it is broken.
Sometimes the power jack may be physically intact and a faulty motherboard is the reason why you are experiencing a power supply problem. In this case our laptop power jack repair technicians will fix the faulty motherboard to restore your laptop's power. If a faulty charger turns out to be the problem, we can replace that too while you wait. In order to ensure that repairs are carried out on the same day you bring your faulty laptop in to us whenever possible, Ganton IT's workshop always keeps a good stock of spare parts, including power jacks and chargers for all laptops and notebooks.
Ganton IT's repair centre in Bermondsey London SE1 is open Monday to Saturday, from 09:00 to 18:00 hrs. You can drop your faulty laptop in anytime during opening hours and do not need to make an appointment for laptop power jack repair.